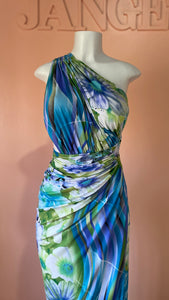 Embody the sultry sexiness that is Valeria. This dress was first released in our Cultura collection. It's that perfect 'Wedding Guest' dress and also that show stopper for daytime or night time events. Valeria has now been reinvented in vibrant colour ways.
Free size.
Fits up to 45" hip.

Waist to Hem approximately 44".
Fabric is four-way stretch.
Hand wash or dry clean.
For any additional questions, please ask before purchase. E-mail us at info@jangelique.com.
Orders shipped out of Trinidad & Tobago.