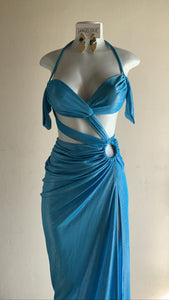 Goddess of the Moon. Selene features our Signature aesthetic with strategically placed straps to give that ultra feminine, sensual presence.
Colour or print to be confirmed before purchase.
Waist-high slit. Slit not visible when standing upright.
Fabric is four-way stretch dry cleaned.
Prices are in USD.
For any additional questions, please ask before purchase. E-mail us at info@jangelique.com.
Orders shipped from Trinidad & Tobago.