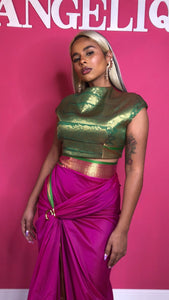 Celebrating The Festival of Light in one of our Gypsy Paradise Signature Ensembles. Free movement and bohemian silhouettes dominate this collection. 
Free size.
Model wears Medium - adjusts to Large And Small.
Top laces up at back.
Fits up to 45" hip
Waist to Hem approximately 44"
Fabric is non-stretch.
Hand wash or dry clean.
For any additional questions, please ask before purchase. E-mail us at info@jangelique.com.
Orders shipped out of Trinidad & Tobago.