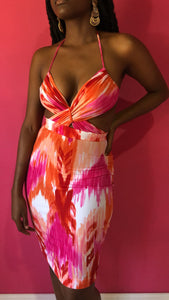 Nyx borrows Summer Sweetness' crisscross details. This sleek pencil dress is versatile; style with pumps or kicks to switch up your look.
Model is C cup/ 30/ 43
Fits up to 43" hip.
Waist to hem approximately 25".
Fabric is two/way stretch charmeuse.
Hand wash or dry clean for best care.
For any additional questions, please ask before purchase. E-mail us at info@jangelique.com.
Orders shipped out of Trinidad & Tobago.