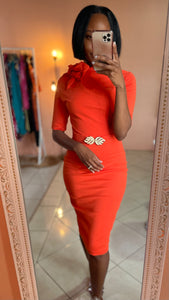 Jin Forde Classic features a draped flower neckline, fitted pencil silhouette and contrasting belt with gold hardware.
Size Medium; adjusts to small.
Alternate colours upon request.
Belt Removable and Adjustable.
Fits up to 42" hip
Waist to Hem approximately 27"
Fabric is four-way stretch and should be hand washed or dry cleaned.
Prices are in USD.
For any additional questions, please ask before purchase. E-mail us at info@jangelique.com.
Orders shipped from Trinidad & Tobago.