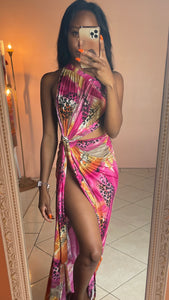 Be the Showstopper in one of our Signature Dresses. It's perfect for a sunny outdoor event or a night time soirée.
Free size.
Fits up to 45" hip
Waist to Hem approximately 44"
Bra concealing 4" straps may be added upon request (before purchase).
Fabric is stretchy.
Hand wash or dry clean.
Instructional video upon purchase.
Prices are in USD.
For any additional questions, please ask before purchase. E-mail us at info@jangelique.com.
Orders shipped from Trinidad & Tobago.