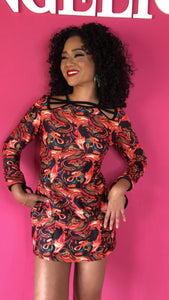 "La Stampa" inserts elegance into the Boardroom. This dress borrows the intricate neckline of "The Authority" while inverted pleats from the waist to hemline create a flattering silhouette.
Size Upon Request.
Colour/ Print Upon Request.
Waist to Hem approximately 18"
Fabric is two-way stretch and should be hand washed or dry cleaned.
Prices are in USD.
For any additional questions, please ask before purchase. E-mail us at info@jangelique.com.
Orders shipped from Trinidad & Tobago.